Young Safe Internet Leader Camp Version 1.0
Total Access Communication Public Company Limited (dtac), in partnership with Saturday School, created a platform for young digital citizens, aiming to promote 'Creative & Safe Internet Use' and foster 'Digital Literacy' among them. This platform has enabled students (aged 12-15 years old) to be aware of online risks at school such as Fake News, Cyberbullying, Sexual abuse, etc. and also be able to tackle the potential online issues through their initiatives which will be further developed into in-action projects in their schools.
Students for Brighter Future
Partnering with Citi Thailand, we empowered Citi's volunteers to enable secondary school's students to explore themselves, realize their potentials, and create their own business ideas to solve a problem they are interested in at Ritthinarongron School.
Master the 21st Century Skills
Partnering with Deloitte Thailand, we empowered Deloitte's volunteers to organize an impact day 2019, aiming to inspire and equip primary school's students with the 21st century skills at Trokchan Wittaya School.
Equitable Education Fund worked with us to offer equal education opportunities for all children via customized classes. With creating Line sticker skill, the children can create their own ones to make an income themselves.
We partnered with UNICEF Thailand to bring together bright young minds to tackle some of the biggest challenges facing their generation.
Partnering with CDG, we organized a workshop to inspire the children and parents to recognize the importance of coding by learning how to write code for basic computer program using Scratch.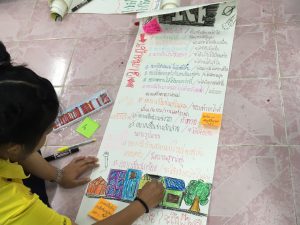 Boost Up Motivation and Career Aspiration Program
Partnering with Thai Union, we organized two-day workshops for children in Samut Sakhon, Samut Songkhram, and Prachuap Khiri Khan dare to dream. The children drew their own life pathways from the present to their life goals. After 3-month follow-up phase, the children still had their own strong future plans. Their teachers also reflected that their students changed their behaviors to be more determined and have more attentions in their classes.
Please email to saturdayschoolthailand@gmail.com